Our Policies...
All reservations are important to us; however, our policies are well thought out and essential to manage a large seasonal B & B in a beach resort. Please take the time to read below; if you have any questions, feel free to call or email us.
Payment:
Balance of payment is due at check-in. We accept Visa, MasterCard, Discover, and American Express. Sorry, personal checks are not accepted at check-in. All discounts, specials, offers, and gift certificates must be presented or offered upon reservation and/or check-in and PRIOR to payment in full. We do not offer refunds once payment is made in full after check-in. We will ask for a current credit card to keep on file for incidental charges, such as beach tag replacement (if lost), lost keys, etc.
Deposit Policy:
A deposit of one night's rate (highest rate) is required immediately upon making (current season) reservations for up to four nights. Five or more nights require a 25% of total deposit.
Cancellation/Change Policy:
Because each of our rooms are individually decorated and appointed, your reservation and deposit is our mutual agreement that we will reserve and prepare the room you selected for the dates you have requested. We understand situations may come up requiring you to cancel or change your reservation. For a seasonal, shore town B & B, our policy is as flexible as possible. If you cancel 15 or more days prior to your reservation, we offer a full refund minus a $25 (plus tax) "administrative" fee. If you cancel from 7- 14 days prior to your reservation, your deposit is your cancellation fee, unless we are able to re-book your room for the same days; in this case, a $75 (plus tax) administrative fee is applied. If you cancel less than 7 days prior to your reservation, the full amount of your reservation will be charged unless we are able to re-book your room for the same days; in this case, a $75 (plus tax) service charge is applied. Please note that your arrival date is "DAY 0" when determining cancellation/change dates. Sorry, credit will not be issued for a future stay. Please note, reservations of 5 or more nights will be charged an administrative fee of $50 plus tax on cancellations requested 15 or more days prior to arrival.
Scarborough Inn Gift Certificates are treated similarly to cash, and their value will be reduced by the amount of the cancellation/change fees. If you are concerned about the possibility of an emergency, we recommend you consult a travel professional about trip insurance. Reducing the number of days on your vacation is considered a cancellation of those days, and subject to the above "cancellation policy."
Changes to the dates:
A request to change the dates will be honored free of charge outside of 60 days as a courtesy. Guests are responsible for any increase in rates the change has caused. Reduction in days reserved defaults to the above cancellation policy. Within 60 days, it is considered a cancellation and will be subject to the above policy. We advertise our rooms year round on a "Global Distribution System" and, since we are a seasonal business, changes this close to the arrival date significantly impact our ability to fill rooms.
Please note: We cannot cancel online, third party reservations. You must contact that company (Priceline, Expedia, Travelocity, hotels.com, etc.) directly. Cancellation policies/fees for these companies may be subject to additional restrictions.
Check in time / check out time:
Please check in from 2 p.m. - 8 p.m. Please check out before 11 a.m. Please read below for times outside of these windows.
Early check in:
Although keys are not handed out until 2 p.m., you are welcome to arrive any time after 12 p.m. on your arrival day. Assuming all items were returned from your room's previous guest, we will distribute parking passes and beach tags after 12 p.m. Additionally, if you contact us 24 - 48 hours in advance, and we have availability, we may allow early check-ins at the rate of $25 for the first hour and $10 for each additional hour until 2 p.m.
Late check-in:
Our front desk is open until 8 p.m. each day. Guests are strongly encouraged to check in before 8 p.m. If you must check in after 8 p.m., please notify us in advance. We offer a "free grace period" until 9 p.m. However, from 9 p.m. - midnight there is a $25 late check-in fee; after midnight there is a $50 late check-in fee. Room taxes apply.
Late check-out:
Check out time is by 11 a.m. All items (beach tags, parking passes, etc.) must be returned and the parking lot must be vacated by this time so we can prepare those items for guests who may arrive by 12 p.m. Prearranged (24-48 hours prior to check out) late check-outs may be possible based on capacity and availability at a rate of $25 for the first hour and $10 for each additional hour. Guests who do not prearrange this service will incur a $25 fee for each additional hour past 11 a.m. Room taxes apply.
Please, only registered guests are permitted in guest rooms
; however, friends or families from other hotels/inns are sometimes welcome in and around common areas (lobby, front porch) as availability allows. Guests who do not follow this policy may be asked to leave early without a refund.
Registered guests (only) who have checked out are permitted to use outside showers, changing stalls, and ground-floor restroom facilities on check-out day only. Please be courteous of guests who are enjoying their vacation/beach time at the Scarborough Inn.
Gift Certificates and Donation Certificates:
If using a gift certificate, please notify us upon making your reservation, or PRIOR to checkin. Gift Certificates do not expire, however donation certificates expire during the current season or as indicated on actual certificate.
Third party (bedandbreakfast.com, etc.) gift certificates are not eligible for specials, discounts, or offers
.
Minimum Stay:
There is a two-night minimum stay on all Friday and Saturday reservations and every day in August; there is a three-night minimum stay on all major holiday weekends (Memorial Day, Fourth of July, and Labor Day). Sometimes, one-night "gaps" are available, which need to be reserved by calling us directly. Also, we sometimes will release one-night weekend stays within 24 hours of the date. Discounts do not apply to one-night stays. Please call for details.
Needed at Check in:
For our guests' security, we require a government issued photo ID when paying by Credit Card. We will also ask for an ID for the person who made the reservation (can be the same person). Identity theft has become more and more prevalent, so we take measures to insure our guests' security. Lastly, because we are a Bed & Breakfast, we like to get to know our guests. A first name will be asked for each guest staying in the room.
Children:
We accept well-behaved children of any age; however, children under 10 must stay in one of the 5 family rooms (8, 19, 22, 31, and 32). Please note, we consider ALL children (infants included) as part of the maximum occupancy of a room. We live on site with 4 children; they have "rules of the house" and we expect our guests' children to act accordingly. The non-family rooms are more decorated and appointed; for this and other reasons, the maximum occupancy is two people (10 and over). There must be an adult, age 25+ in all rooms.
Pets:
Although we love pets, we do not allow pets. We'll be happy to refer a "pet friendly" inn or a local kennel.
Smoking:
All areas inside The Scarborough Inn and the front porch are smoke-free. Smoking is ONLY permitted on the ground floor outdoor patio. (A minimum $350 cleaning charge will be billed to rooms where guests have smoked). Please be courteous to other guests.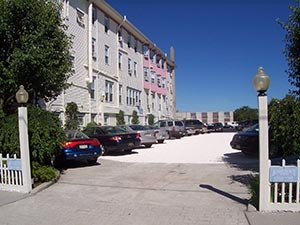 Free (off street) parking and Free Use of Beach tags:
Parking:
One parking space per room will be provided until check-out time on day of departure. All vehicles must provide the year, make, model, and license plate number of their vehicle at the front desk upon arrival. PARKING PASSES MUST BE PROMINENTLY DISPLAYED IN THE VEHICLE or it will be towed at the owners' expense. Please know that our spaces do not accommodate large or over-sized vehicles, and in such cases we reserve the right to ask you to find other "off-site" parking.
Beach Tags:
We offer free use of beach tags (needed from June 7, 2015 through Labor Day) for our guests. We do not maintain spare tags, so guests are responsible for returning tags in a re-usable condition upon check-out. We use a "cashless" system for incidentals, which includes beach tags. Guests who lose, damage, or fail to return tags during check-out will immediately be charged a minimum, non-refundable replacement fee of $25 (plus sales tax) per tag.
BREAKFAST/AFTERNOON SNACK:
Complimentary breakfast is served in our "restaurant style" dining room. We offer a full breakfast, including an appetizer, featured entrée of the day, and 2 sides. We also offer a self-service bar which may consist of a waffle station, oatmeal, hard-cooked eggs, cereal, pastries (or Danish), and/or fresh fruit. During busy times, breakfast is served from 8 a.m. - 10 a.m. During off-peak times or shoulder season, time may be shortened accordingly; in that case guests are notified of time changes in advance.
Afternoon snack: We provide an afternoon snack, usually from 4 p.m. - 5:30 p.m. This typically includes iced tea, hot tea, coffee, and a sweet and/or savory light snack to hold you over until dinner.
We will do our best to accommodate dietary restrictions if notified PRIOR to your arrival.
Room requests are honored whenever possible, but are not guaranteed.
Complimentary Concierge Service and Visitor Information is available. Free local publications, brochures, and sometimes coupons are provided for local establishments.
Rates and policies are subject to change without notice.